Win Our Award


WELCOME !!!
Here is where i get a chance to Thank You for all the wonderful work you have done on your sites !!
I am honored to be able to give out this award
And I would like to thank Marcia for making it for me !!
Applying is real easy.. Just fill out the form below... or e-mail your info...
There are a few rules though... so please read my terms before you apply..
Thanks for stopping by and I look forward to visiting your site of words...




Terms !!!




1) You MUST !! Give the Graphic Artist credit where credit is due..
That is on the same page as the graphics you use
2) Your site my be family friendly... No Profanity or Pornography or anything else not safe for kids to see
3) Must have some writting of your own
Not just links to other sites
4)Sign my Guestbook .. not a must but, would be nice to know you were here.
5)Please link the award back to me.. http://writersblock123.tripod.com
That's about it for the rules... If you agree with them then
Just fill out the form below
That's about all there is too it..
See not so bad huh !!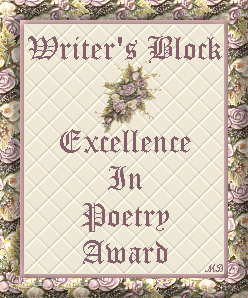 Here is the Award...Please don't take this one..
I will send it to you if you qualify and agree to the terms
Would like to thank Marcia for making this award for me
Click here to visit her wonderful site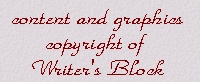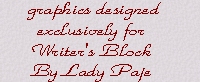 Free JavaScripts provided
by The JavaScript Source